News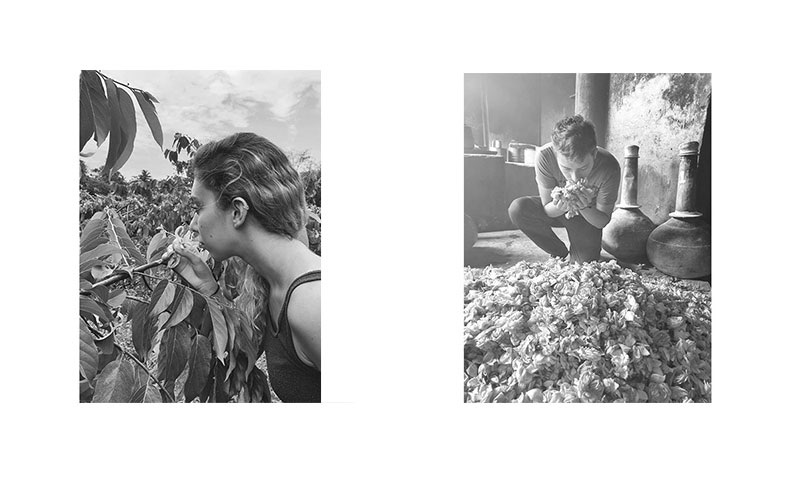 Isabelle Bondant & Théo Zerbib

View 317 once
Discover :
Promo 2019 - Master FESIPCA, option parfumerie

Founder of "Nose on the Road" project
What is your educational background?
Isabelle: after obtaining my High School Diploma in Sciences, I did a chemistry bachelor's degree at the University of Versailles Saint Quentin en Yvelines to finally integrate ISIPCA into the FESIPCA master's degree - perfumery option.
Théo: After obtaining my High School Diploma in Sciences, I followed a university preparation at engineering schools (MPCI) before integrating ISIPCA for the master FESIPCA - perfumery option.
What is your professional background after ISIPCA?
Following our alternating training at ISIPCA at Diffusions Aromatiques (then Attractive Scent) for Isabelle as apprentice perfumer analyst / evaluator, and at Takasago for Theo as apprentice perfumer, we decided to link our 2 passions which are perfumery and travel to create Nose on the road, our olfactory world tour project. The objective was to meet the producers of raw materials for perfumery, to discover the harvests, to smell the different qualities of raw materials...
How did you get the idea for this project and how did you set it up?
This project has become quite obvious because natural raw materials have always had a special place in our hearts. We wanted to go to their source, to know their smell before extraction, to understand the methods used for the cultivation and extraction of these materials. We spent 6 months preparing this world tour, contacting the producers, organizing the itinerary of the trip, ...
What has been the greatest challenge you have overcome in your entrepreneurial adventure?
It was not easy to combine the harvest periods of the raw materials with the geographical logic of the countries to determine our itinerary. Nevertheless, we managed to make a trip that allowed us to see the maximum amount of material for each country we visited while minimizing the distances between each trip. Starting with Madagascar and going to India via Sri Lanka, our trips were punctuated by daily olfactory discoveries.
What barriers did you encounter and how did you overcome them?
It is not easy to obtain producer contacts mainly because of the confidentiality issue. By persisting, we have managed to find producers who are ready to welcome us.
What were the key moments that contributed to the success of this project?
We had the chance to visit many producers during our trip allowing us to feed our website with many complete articles on various raw materials. But also, our trip confronted us with many new smells that were not used in perfumery. All these scents constitute a repertory of smells referenced as precisely as possible inside our site.
What advice would you give to successfully manage the creation of a business?
Nose on the road does not quite correspond to the creation of a company, but for us the main thing to succeed in any project is to work hard, to believe in one's dreams and to give oneself the resources to make them come true.
In spite of the current difficult situation in the world, Nose on the road continues to live through our discoveries of the previous months, articles continue to come out on our site. This project is not finished and will resume when the situation will have improved, many producers are waiting for us across several countries.
Follow us:
---
I like